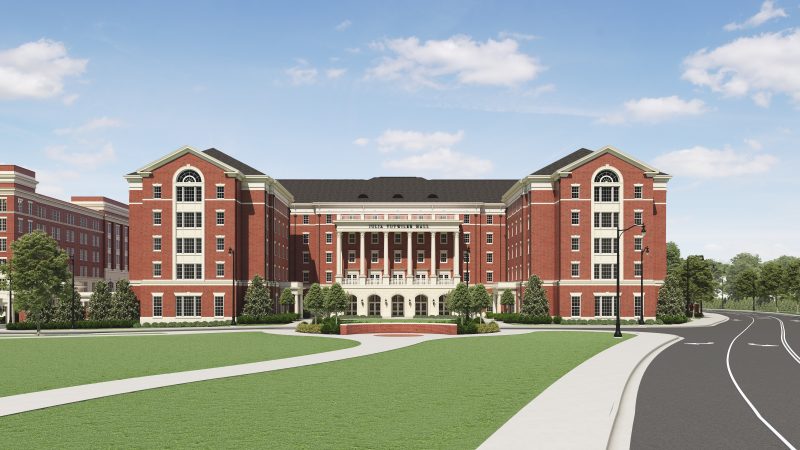 UA News – Building Bama: Tutwiler Hall
"The University of Alabama's Board of Trustees recently approved the designs for the new Tutwiler Hall. The residence hall will provide a unique living experience for first-year female students at the Capstone.
"The new Tutwiler Hall will be a great addition to our campus," said Dr. Steven Hood, associate vice president of student life at UA. "Anchoring the south side of campus, the 1,284-bed facility will provide students with a safe and secure housing option with everything they will need to be successful UA students."
The new residence hall will consist of double-occupancy units with private bathrooms. Each level includes small, social gathering spaces that will provide a sense of comfort and community for students. To better support movement through the facility, plans include the installation of six elevators.
The first floor will include a 16,600-square-foot storm shelter capable of holding approximately 1,413 students, faculty and staff. The multipurpose room will also provide space for group meetings and other programming opportunities to support UA Student Life operations. A central courtyard will provide additional opportunities for residents to socialize and host events.
Julia's Market, part of the current Tutwiler Hall, will be relocated and expanded in the new facility. Plans also include a fitness center for residents.
To promote safety and security, plans include keyless entry to the units with traditional locksets at all bedroom entryways, access control and cameras at all building entrances and other strategic points, perimeter fencing at all areas adjacent to public right of ways, and controlled access to the courtyard.
Construction of the new Tutwiler Hall is scheduled to start late fall. The new facility will be located adjacent to the current Tutwiler Hall, which will be demolished, at the earliest, when construction of the new facility is complete."
From UA News.
Read the full story